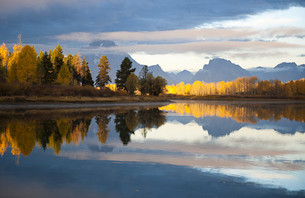 Photo: Caroline Treadway
Sunrise at Oxbow Bend with Mt. Moran in the
background, the first morning of Rich Clarkson's
Photography at the Summit workshop and my first time
actually trying to shoot a landscape.

Snap that shutter 'til it breaks, but if you really want to fast track your photography, take a Rich Clarkson workshop. It's hands down the best way to shoot better photos. A ground-breaking photographer himself, Clarkson finds the best teachers in the business - photography legends, top industry professionals and editors - to inspire and challenge you beyond expectation. At Clarkson's workshops, these gods of photography are at your disposal for one-on-one instruction, portfolio reviews, technical tips, group critiques and evening presentations of their work. It's a lifetime opportunity if you aspire to shoot sports, portraits, nature, wildlife or photojournalism.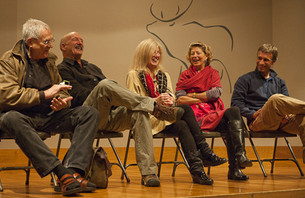 Photo: Caroline Treadway
Photographers Jay Maisel, David Alan Harvey, Jodi
Cobb, National Geographic editor Kathy Moran and
photographer Michael Forsberg answer questions about
their professional careers and personal lives in a
panel discussion at the close of the Summit
workshop.

This fall, I was lucky enough to take Rich Clarkson's Photography at the Summit workshop in Jackson Hole, W.Y. I'd been eyeing it for almost five years, and finally found both the time and opportunity. The workshop's not cheap, but it's nowhere near the most expensive and well worth every dollar in inspiration, connections and field experience.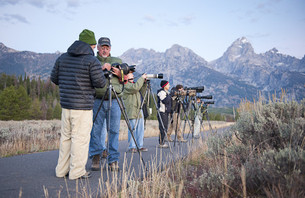 Photo: Caroline Treadway
Tom Mangelsen, legendary nature and wildlife
photographer, teaches an early morning wildlife
photography session below the Tetons.
It was still dark when we met legendary photographer Tom Mangelsen outside Teton National Park. Cold and barely-caffeinated, we fumbled into cars and headed off to look for buffalo. Guided by Mangelsen, who knows every wild animal in Jackson Hole practically by name, it didn't take long to find them. Within minutes, we'd located a herd of bison - dark, steam-breathing shapes meandering in a meadow.
Photo: Caroline Treadway
Photography at the Summit line-up (almost). Tom
Mangelsen, William Allard, Jay Maisel, David Alan
Harvey, Jodi Cobb, Kathy Moran, Michael Forsberg and
Rich Clarkson at the start of the final afternoon's
panel discussion. Missing: Dave Black, Keith
Ladzinski and Bob Smith.

Back at the Museum of Wildlife, I raced through my morning images, chose two for the group critique and headed for a portfolio review with the godfather of photography, Jay Maisel. At lunch, I ate with Bill Allard, David Alan Harvey, Jodi Cobb and Jay Maisel, trying to soak up their combined lifetimes of experience shooting for organizations like Magnum and National Geographic.
Photo: Caroline Treadway
Instructors Keith Ladzinski, Jay Maisel and Tom
Mangelsen deep in discussion at an evening reception
at Mangelsen's gallery, Images of Nature, in
downtown Jackson Hole.
All the photographers teaching at the workshop had one thing in common: passion. They'd all gotten to the top of their field by doing what they love, from Dave Black's incredible images of the Olympics to Jodi Cobb's work on children in bondage. That's the number one thing I took away from the workshop. As Jay Maisel said, "take the photo that takes you."
Photo: Caroline Treadway
Buffalo in the early morning below the Tetons,
Jackson Hole, WY.

The workshop zoomed by with zero spare moments. A week later, sleep-deprived but brimming with ideas, inspiration and new-found connections in the photography world, I reluctantly left Jackson Hole armed to take better photos wherever my next adventure leads.
Photo: Caroline Treadway
Rain on Aspen leaves.